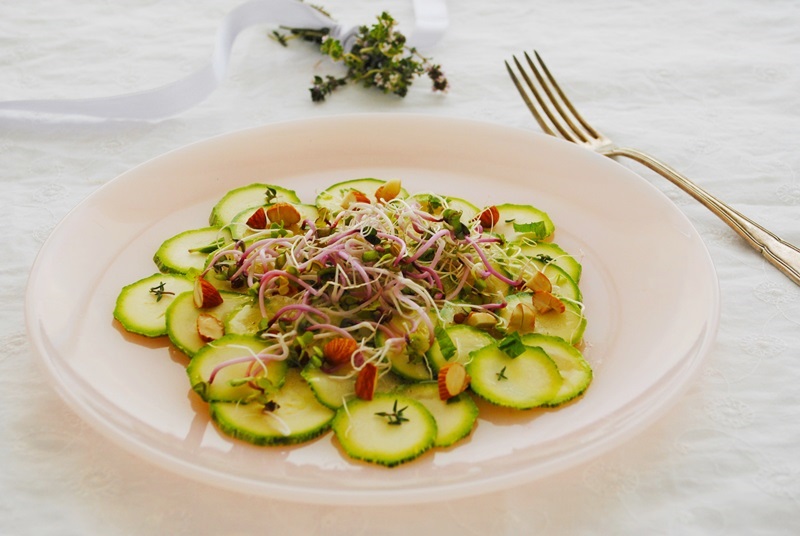 Carpaccio was a painter. Let's start from that.
Carpaccio was a venetian renaissance painter contemporary to Mantegna and Perugino, whose reputation was somewhat overshadowed by the inventive and innovative painting of the next generation, that of Leonardo, Michelangelo, Raphael.
In his life the poor Vitore was relegated in the province of Venice, four centuries later became a plate of raw meat, thinly sliced, tenderloin beef for accuracy. The painter, almost completely forgotten …. sic transit gloria mundi.
The Carpaccio was invented by Giuseppe Cipriani for her friend the Countess Amalia Nani Mocenigo who could not eat cooked meat, as the same Cipriani wrote  in the book "Harry  Bar corner":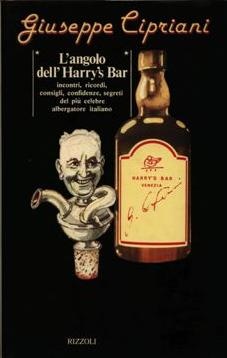 «If You slice raw meat, of course very fresh and cut into slices like a light ham , there you will have (with the addition of some sauce) the carpaccio. With the carpaccio the tricks are prohibited. His secret is to be fully revealed, naked as Mom made it. For this, as I do not recognize its qualities, I do not like French cuisine, that instead prefers to mask foods . How did the carpaccio come from? Doctors had ordered to Countess Amalia Nani Mocenigo a strict diet. She could not eat cooked meat and thus to indulge her, I thought to cut a very fine sirloin slices. The meat itself was a bit bland; but there was a very simple sauce that call universal for its adaptability to meat and fish. I put a squeeze the cutted meat and, in honor of the painter of whom that year in Venice was talked a lot because of the exposure and also because the color of the dish reminded some colors of the artist, I called it carpaccio»
We are in the 50s, and carpaccio fame becane international, thanks to the clever chefs who exported it. Over the years the purity of the dish derails and ita has been covered with arugula and Parmesan, and then over the years it  directly collided with the original concept, because now everything is cut in fine layer, raw and slightly condinentado is calles carpaccio.
I confess I am guilty: I called this dish carpaccio zucchib and I did the same with figs. But it's wrong … we must find another name, but is a necessary Cipriani's creativity .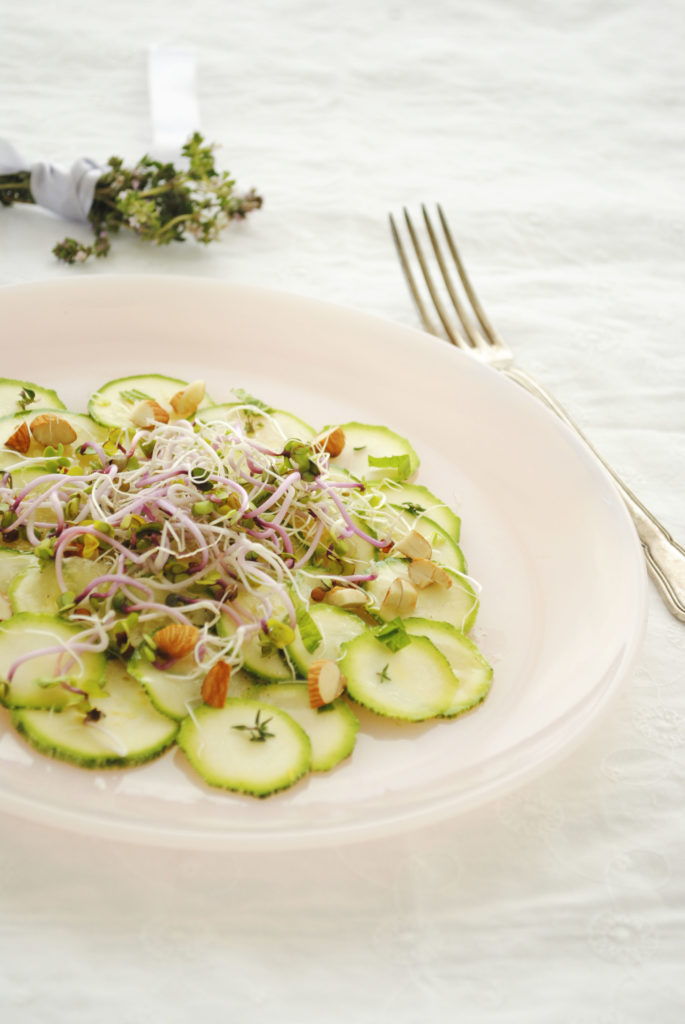 Carpaccio di zucchine
Ingredients
4 small zucchini
One lemon's juice
A handful of almonds
A few sprigs of thyme
Some mint leaves
A few leaves of oregano
Sprouts of soya bean or radish
Olive oil
Coarse salt
Pepper
Instructions
Cut the zucchini into thin slices.
Sprinkle with salt and let stand for 20 minutes. Quickly drain and to remove salt.
Crush in a mortar oregano and thyme, add the lemon juice and olive oil, stir and season with salt and pepper.
Place the zucchini slices on a plate with sprouts and coarsely chopped almonds, then serve with the flavored oil.