Gluten Free pasqualina pie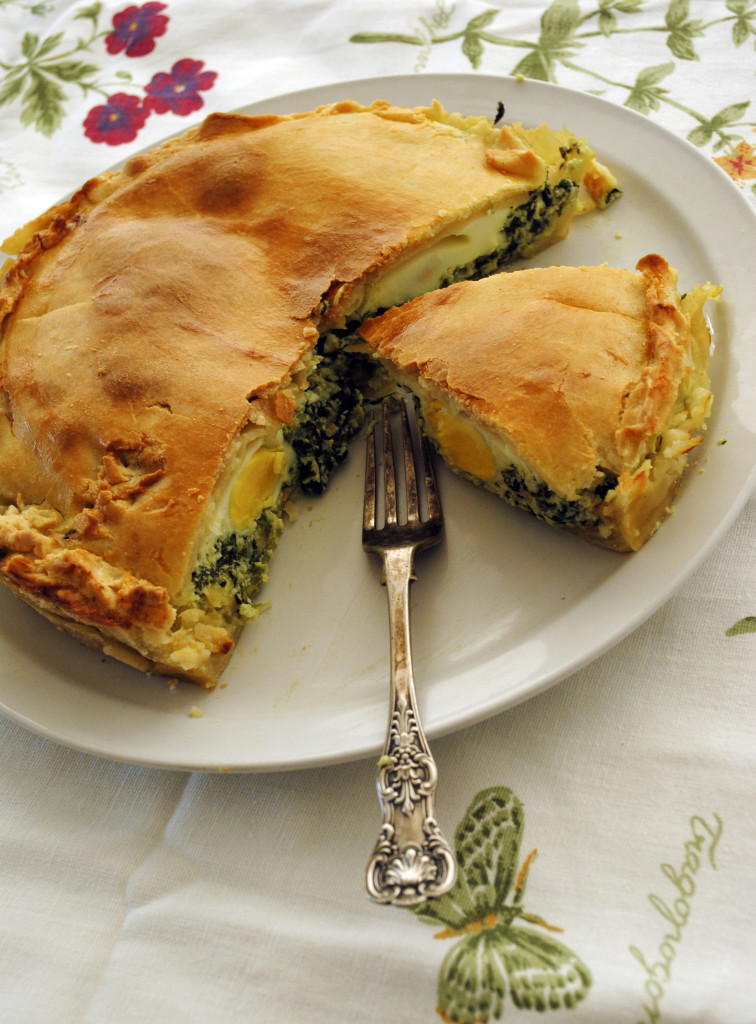 300 grams of gluten flour (I used the MIX B Schar that I find in Buenos Aires)
30 grams of olive oil
½ cup dry white wine
½ cup water
half teaspoon of salt
Right amount of oil to grease the pan
1 egg for brushing
400g ricotta
800 grams of chard
40g grated cheese
a tarragon leaves (or marjoram)
1 clove garlic
1 small onion
nutmeg
3 eggs
Olive Oil
Salt and pepper
Combine in a bowl the flour with the remaining ingredients, except water that will put little at a time to see how much it will be absorbed. For me it was enough half a glass for a soft, slightly sticky dough but that comes off of the fingers.
I divided the dough into 5 parts, made five balls that I covered and let rest for nearly two hours. [Br]
Remove from chard larger hard white leaves and cut the rest into thin strips .
Mince the garlic and onion finely.
Lightly fry the onion with the garlic.
Add chard, it's not necessary cook before because it is a vegetable that has plenty of water, if it is too dry add a drop of water, but very little.
Season with salt and pepper, vegetables with salt immediately release water.
When vegetables are cooked, add the ricotta and cheese and seasoned with tarragon leaves and nutmeg. Adjust salt and pepper,
Mix well and set aside.
Flour the counter and stretch a ball of dough with floured rolling pin, trying not to puncture it or break it . It is not easy, even with the flour with gluten, imagine without. If you want to make a huge cake ... increase the dose of the mass ....
Spread the base and edges of pan with oil and carefully put the dough, you can help with the rolling pin, you should cover the base of the mold, and at least cover the edges. If tha pastry breaks do not despair ... you follow the advice below n.2.
With a brush (or hands) spreads the first sheet with oil. Repeat the process with the second ball of pastry.
Fill with stuffing. Make three holes with the back of a spoon and break the eggs into the holes (one per hole ... of course).
Stretching the third ball of dough. Gently spread it over the filling to cover well and the same way, smoothly, Vitto says: take care that are below the eggs are liquid.
Proceed in the same way with the other two remaining balls of pastry, but the last layer is not smeared with oil.
Remove part of the mass overflows the mole (if overflow) and close the top with the, base, i, leaving open only a small hole.
Insert a straw among the last three sheets of dough over the filling and blow inside. Magically the top cover of the cake will inflate like a balloon and the pastry will puff.
Remove the strawand quickly close the dough.
Brush the surface with a lightly beaten egg and then cook it in the oven at 180 degrees for 40 minutes, until the surface is golden brown. [Br]
With these doses of the ingredients do not choose a too large mold, like mine, a monster of 24 cm, height 8: is very difficult to stretch a dough sheet of more than 30 cm, since in theory the pastry should leave the edges of the monde. A mold of 18 cm is enough.
If by chance the dough breaks as happened to me ... do not tell anyone .... and remenden with a small patch of another mass covering the hole. When it's cooked everything is attached. It is important to stretch the pastry as much as you can, it must be almost transparent . [/ i]
Recipe by
Glu-Fri
at https://www.glu-fri.com/en/gluten-free-pasqualina-pie/