Gluten Free Lemon and Mascarpone cake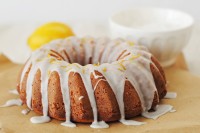 250 g gluten free flour for cakes + right amount flour the mold
12 g of beking powder (*)
The grated peel of 2 lemons
120 ml of lemon juice
180 g of butter at room temperature + r.a.for buttering the mold
280 g of sugar
3 eggs at room temperature
125 g of mascarpone at room temperature
For the icing:
350 g of icing sugar (*)
40 ml of lemon juice
Preheat the oven to 180 degrees.
Grease and flour well a bundt mold,
Mix in a bowl the gluten free flour and baking powder and sift the mix once.
In another bowl, with electric whips cream the butter and sugar until creamy smooth and frothy, add the grated lemon peel and mix well.
Add the eggs, once at a time stirring and integrating perfectly with the butter cream.
Pour gradually the dry ingredients (the mix of flour and baking powder), alternating the flour with lemon juice and mascarpone.
Mix with a spatula just to combine the ingredients, not overmix the batter.
Bake in hot oven at 180 degrees for 40-45 minutes.
Ingredients for 26 cm bundt cake
* Ingredients with gluten or that could have gluten free contamination
Recipe by
Glu-Fri
at https://www.glu-fri.com/en/gluten-free-lemon-and-mascapone-cake/